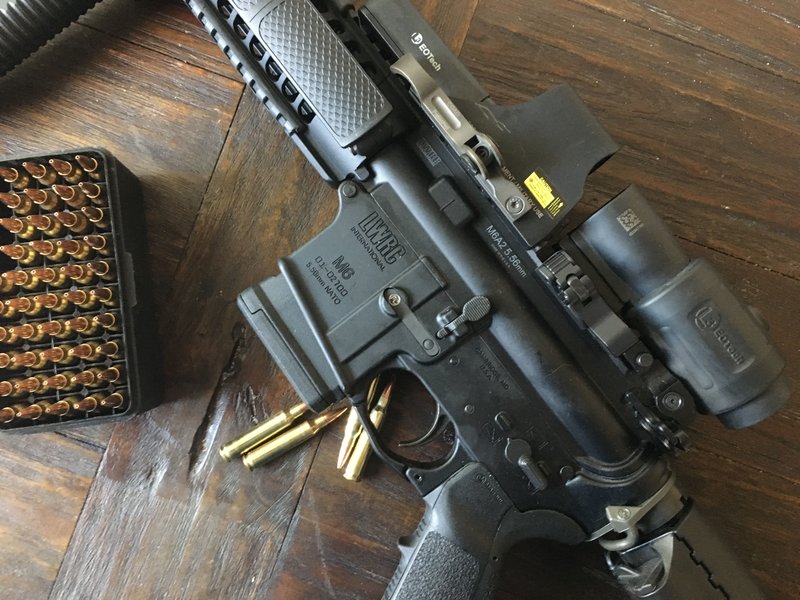 The "FC" in FC-Hook stands for "Fully Compliant". Fully Compliant is a brand statement that represents an attitude against the State shared by many professionals in the firearms industry throughout California and the rest of the Nation.
Fully Compliant also represents the spirit of the law with regards to the "FC-Hook". Just as a "shotgun plug" prevents a shotgun from holding more than
three shells to make it compliant with certain State and Federal firearms laws, the "FC-Hook" prevents anyone from removing a detachable ammunition magazine from an AR-15 thus making it compliant with State and Federal firearms laws as a non-assault rifle.
The Bottom Line
The FC Hook is an Enhanced Magazine Catch with a precision-machined spring-loaded locking pin that turns any mil-spec AR rifle into a Fixed Magazine rifle.
According to the New 2017 Gun Laws, in order to remove the Magazine from a Fixed Magazine rifle, you must first open the action. The FC Hook exceeds the Law with the additional need of a slim tool used to disengage the locking pin; thereby allowing you to press the Mag Release Button to drop the Magazine.
As a Fixed Magazine rifle, you would not need to register your AR as an Assault Weapon. Remember, if you choose to register your AR as an Assault Weapon, it cannot be undone. Even if you move out of California, it will always be registered as an Assault Weapon. If you stay in California, you can never sell it, transfer it, or bequeath it to anyone, including your children. Upon your death, your family will be legally required to turn in the complete rifle to Law Enforcement, otherwise they would be in illegal possession of an Assault Weapon.
Yes it is true that you may be able to sell it out of state to a specialized FFL Dealer known as a Type 09 FFL who deals in Destructive Devices. But you would have a few obstacles to overcome. First, there are less than 100 Type 09 FFL Dealers in the United States. Actually, as of 2015 there were only 66 licensed Type 09 FFL Dealers. Second, you would need to find a Type 09 FFL Dealer operating outside of California. Third, you would need to conduct the sale and transfer prior to your death. Fourth, you should understand that a Type 09 FFL Dealer is in a professional business with government contracts. They can buy parts for AR rifles at massive quantities. If a Type 09 FFL Dealer wants to buy your exceptionally well preserved, high end AR, he is not going to pay you Market Value. You would be lucky to get dimes or pennies to the dollar for its actual value.
As a Fixed Magazine rifle, your AR can remain unchanged with all its "Evil" Features including its telescoping butt-stock, its pistol grip, and its flash hider. You can even remove the "Bullet Button" and use a standard Mag Release Button with the FC Hook. There is no need to spend a few hundred dollars converting your rifle into a "Featureless" type rifle.
The FC Hook is priced less and easier to install than the AR Mag Lock and the Patriot Mag Release. Unlike the AR Mag Lock and the Patriot Mag Release, if needed the FC Hook can be uninstalled and re-installed without destruction of the device. Both the AR Mag Lock and the Patriot Mag Release require instillation with permanent adhesives to bond the accessible threaded assembly parts so that the mag lock device cannot be removed while the action is closed on the rifle. Without the proper permanent adhesive bond, the magazine could potentially be removed from the rifle while the action is still closed. Therefore, these devices cannot be removed without destroying them. The FC Hook is easy to install and uninstall and re-install. However the FC Hook cannot be uninstalled with the action closed. In order to uninstall the FC Hook, you have to open the action. This is a huge benefit if you like to travel with your AR to other states for shooting competitions. Once you are in a "Free State" you can remove your FC Hook and replace it with a standard Magazine Catch and shoot your rifle the way it was originally designed. Before you return to California, you'll need to re-install your FC Hook so that your AR is compliant as a Fixed Magazine rifle when you enter California. You should always store and transport your AR with the FC Hook installed and a 10 round magazine locked in the mag well.
I often here good, solid, upstanding gun owners who say they're not going to register their rifles and they're not going to put any "gimmicky lock devices" on their rifles. They tell me, that they are just going to leave their rifles in their safes. I admire the stance these patriots are taking. But to those patriotic gun owners, I say that even if you keep your gun permanently stored in your gun safe to never see the light of day, there is always the possibility that something could happen to bring the attention of authorities to your gun safe. Your house could be robbed, It could burn down, or become a crime scene while you're on vacation. There are many scenarios that could cause the contents of your safe to be brought to the attention of Law Enforcement Authorities. $36 is the cheapest insurance you would ever buy. I once spent $39 on warranty replacement insurance at a Circuit City on a $200 AIWA cassette walkman that's been in a land fill for the past 30 years. With what a person stands to lose during a legal entanglement over an unregistered Assault Weapon sitting in a gun safe, $36 seems like money well spent.
---