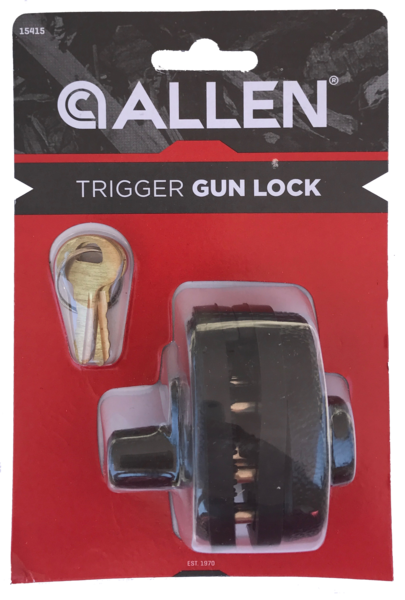 Allen Trigger Gun Lock
1 PACK & 3 PACKS IN STOCK NOW !
Allen Trigger Gun Lock
California compliant safety device - Trigger Lock, Gun Lock

by Allen Company
As AR-15s and AR-10s are converted to Fixed Magazine rifles, the cable lock through the mag well is no longer an option. You are still legally responsible for making sure that your rifle is unaccessible at all times (either locked in a DOJ approved safe, gun case, or secured with a gun lock.)
Remember the notice posted at all California gun stores:

"IF YOU KEEP A LOADED FIREARM WITHIN ANY PREMISES UNDER YOUR CUSTODY OR CONTROL, AND A PERSON UNDER 18 YEARS OF AGE OBTAINS IT AND USES IT, RESULTING IN INJURY OR DEATH, OR CARRIES IT TO A PUBLIC PLACE, YOU MAY BE GUILTY OF A MISDEMEANOR OR A FELONY UNLESS YOU STORED THE FIREARM IN A LOCKED CONTAINER OR LOCKED THE FIREARM WITH A LOCKING DEVICE TO KEEP IT FROM TEMPORARILY FUNCTIONING."
Allen's Trigger Gun Lock is a heavy-duty and durable locking device that is placed over the trigger mechanism in seconds and locks securely in place.
When you need your firearm, simply turn the key, and the lock comes open, no need to unscrew a long fastener to open it.
Certified for use with most shotguns, rifles, revolvers, and pistols. Not for lever action rifles.
Comes with two keys.
This is a California-approved Firearms Safety Device that meets the requirements of California Penal Code Section 12088 and the regulations issued thereunder.