ATLAS AR15 KEYMOD RAIL (16.5", 15", 12", 10", 7")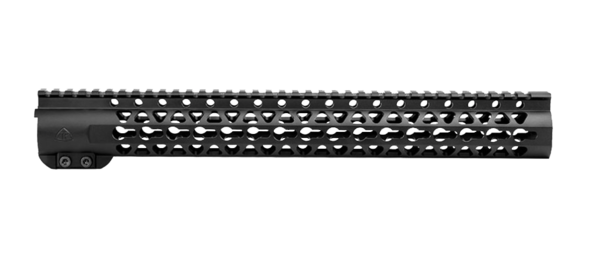 ATLAS AR15 KEYMOD RAIL (16.5", 15", 12", 10", 7")
Torque Precision has added Atlas line of free float rails made by Trinity Force to our recommended Value Line Defense products because of their excellent cost to quality benefit. This is a high-quality rail system that also comes with Trinity Force's Lifetime Warranty.

---
ATLAS AR15 KEYMOD RAIL
The Atlas AR15 Keymod Free Float Rail features a slim profile for improved ergonomics and weight savings. With a static top rail optimized for mounting optics and multiple contact points for a hex key mounted modular rail system on the sides and bottom, the Atlas Rail is the ideal solution for any AR15 owner looking for speed and mission flexibility. It uses a hex key secured barrel nut clamp and proprietary barrel nut for even more weight savings and easy installation.

FREELOK Clamping System US. PAT. NO. 9,389,043 B1

The Atlas AR15 Keymod Rail features a non-indexing barrel nut and clamping system (FREELOK) that utilizes free floating tabs to secure the rail to the receiver. FREELOK provides both frictional and mechanical locking forces to create a rock-solid bond between the rail and barrel nut.



Specifications
| | |
| --- | --- |
| Weight (oz): | 11.46, 12.52, 14.3, 15.87, 9.52 |
| Length (in): | 10, 12, 15, 16.5, 7 |
| Width (in): | 1.57 |
| Height (in): | 2.36 |
| Inner Diameter (in): | 1.3 |
| Type of Aluminum: | 6061-T6 |
| Coating Type: | Hard Coat Anodized Finish |
| Interface Type: | KeyMod, MIL-STD-1913 |
p.p1 {margin: 0.0px 0.0px 0.0px 0.0px; font: 20.0px Times; color: #666666; -webkit-text-stroke: #666666} p.p2 {margin: 0.0px 0.0px 0.0px 0.0px; font: 13.0px Times; color: #666666; -webkit-text-stroke: #666666; min-height: 16.0px} p.p3 {margin: 0.0px 0.0px 0.0px 0.0px; font: 13.0px Times; color: #666666; -webkit-text-stroke: #666666} span.s1 {font-kerning: none}