(3 Pack) BEAR FLAG DEFENSE | BF-10™ | Ejection Port Loader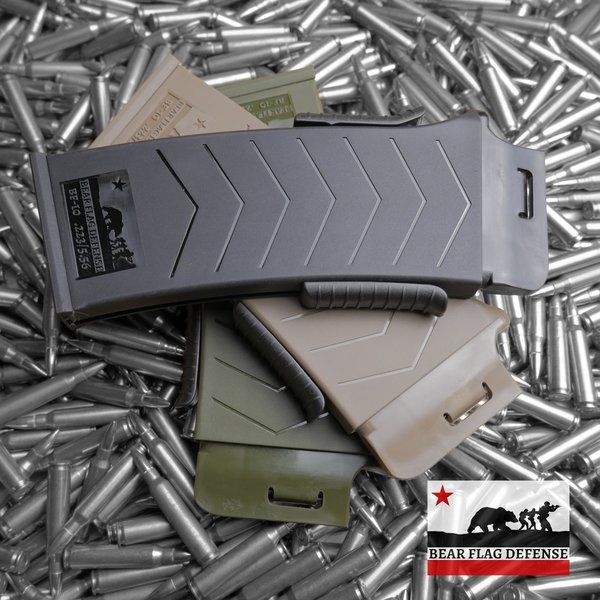 (3 Pack) BEAR FLAG DEFENSE | BF-10™ | Ejection Port Loader
Bear Flag Defense new BF-10™ Loader is a California compliant, 10-round ejection port cartridge loading device that will allow you to safely and efficiently reload your FC Hook fixed magazine without the need to break down the firearm action. Simply place the BF-10™ into your AR-15's ejector port and push the slide grips to quickly load or reload. It is that simple!
Works perfect with the FC Hook for the best of both the California compliance and practical shooting worlds.
"Make California Suck Less!"
Specifications
• Fits:

MIL-SPEC

Upper Receivers Only
• Caliber: 223/5.56 NATO/300 Blackout
• Finish: Black, FDE, OD Green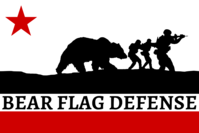 Q1: Do I need to remove the dust cover door?
A1: Nope, its not a problem. Simply plug it into the port while the door is open and BAM! Rack those rounds in.
Q2: How many rounds can I put into the BF-10™?
A2: Answer is 10 rounds. If it were 20 rounds, it might be called the BF-20, but in California we are limited to 10 round magazines and we need to load 10 rounds into the BF-10™. Just feel lucky we don't have to use a BF-7.
Q3: Is it better than the Mean Arms® MA-Loader®?
A3: Yes, in every way possible.
Q4: What Calibers does the BF-10™ work with?
Yes 300 Blackout

Q5: Will it fit in a Magazine Pouch?
A5: Yes, the BF-10™ will fit in most standard magazine pouches, BFD recommends the Taco from HSGI.
Q6: How do you load the BF-10™?
A6: BFD has several videos detailing the process of loading the BF-10™. Basically, you push the follower to the top (feeding end) of the BF-10™, and insert rounds one at a time. There is much less tension in the BF-10™ than a magazine, and loading rounds is very easy and intuitive. BFD is in the process of manufacturing an adapter for the BF-10™ to make it load from stripper clips.