FC Hook Stainless Steel Limited Edition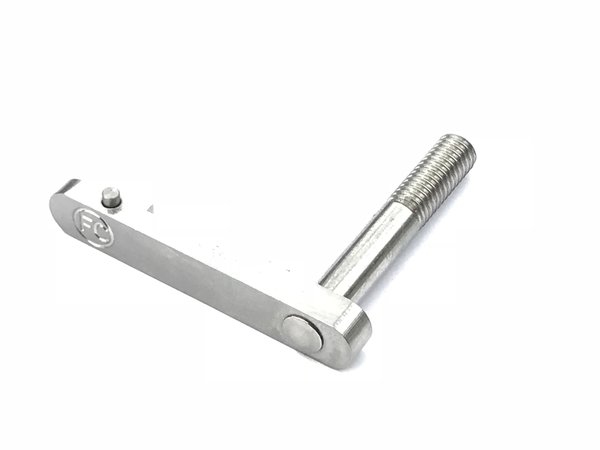 FC Hook Stainless Steel Limited Edition
FC-Hook Stainless Steel Limited Edition
This is a Stainless Steel version of our original FC Hook.
The FC Hook is a made in USA, patent pending, Enhanced Magazine Catch device that contains a spring-loaded detent-pin that is built into the Magazine Catch with laser-guided surgical precision. It replaces the AR rifle's standard mil-spec Magazine Catch. It works with any standard mil-spec Magazine Release as well as the *RADD Lock®, and the *California Bullet Button®.
This devise turns your rifle into a "fixed magazine" rifle that is compliant according to 2017 California Penal Code and recognized by the DOJ as a rifle that is not required to be registered as an "Assault Weapon".
Just like a standard Magazine Catch, The FC Hook can only be removed or disengaged when the takedown pin is pulled and the rifle upper receiver has been pivoted away from the lower receiver.
Removal and reinstallation of the FC Hook takes less than a minute.
Simply use the Slim Tool provided, to disengage the locking pin while the action is open to remove and replace the Magazine.
You can also reload your magazine through the ejection port mag loading products like the BEAR FLAG DEFENSE BF-10®.
Retail Product Package Contains:
• Stainless Steel FC Hook
• Slim Tool
• Installation Instructions
Mil-Spec Magazine Catch Buttons, Magazine Catch Springs, and Replacement Slim Tools can be purchased separately.
(*)(When using with a RADDLock® or Bullet Button®: We recommend that you use an epoxy or strong adhesive thread lock to install with The RADDLock® or Bullet Button® so they cannot be removed while the rifle is assembled. Otherwise, we recommend switching your RADDLock® or Bullet Button® out to be replaced with a standard mil-spec mag catch button and spring.)
Here's a short little installation video