OMEGA STOCK (BLACK, FITS MIL-SPEC TUBES)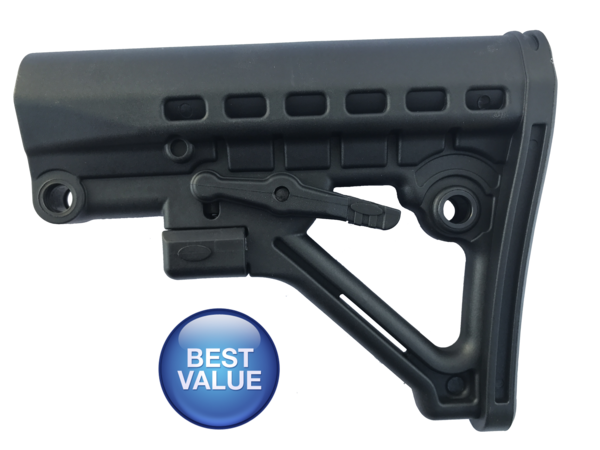 OMEGA STOCK (BLACK, FITS MIL-SPEC TUBES)
Torque Precision has added the Omega Stock by Trinity Force to our recommended Value Line Defense products because of it's great cost to quality benefit. This is a well made stock that comes with Trinity Force's Lifetime Warranty.
The Omega Stock features design elements such as high strength steel and high-density polymer/rubber. The unlocking buffer tube lever allows for easy stock removal from the rifle, and the recoil pad aids in contact point traction as well as impact dispersion. The Omega stock will fit with a Mil-Spec buffer tube and features a quick adjust grip lever and multiple QD sling mounts. The Omega stock is best used in applications where size constraints are not present and rifle weight balance is necessary.

The Omega Stock is an excellent stock comparable to other stocks that cost double or triple the amount. The Omega stock is similar to the higher priced Magpul CTR stock. Although the Omega Stock weighs a little more at 12.9 oz., it has the same length of pull range of 3.3 inches as the Magpul CTR. Also, the Omega stock is only half an inch longer at 7.4 inches in length. The Omega measures 12.2 inches when collapsed and 15.5 inches when fully extended on a standard carbine Mil-Spec 6 position buffer tube. When you remove the rubber recoil pad, you can get a little closer to Magpul CTR's extended and collapsed specifications. The Magpul CTR is an excellent stock. Both the Magpul CTR and the Omega stocks offer similar features and adjustability.
SPECIFICATIONS
p.p1 {margin: 0.0px 0.0px 0.0px 0.0px; font: 13.0px Times; color: #666666; -webkit-text-stroke: #666666} span.s1 {font-kerning: none} table.t1 {border-collapse: collapse} td.td1 {width: 176.0px; padding: 5.0px 7.0px 5.0px 7.0px} td.td2 {width: 307.0px; padding: 5.0px 10.0px 5.0px 10.0px}



Number of QD sling mount points on each side:




Length (in):







2





7.4


Receiver Extension Type:

Mil-Spec


Weight (oz):

12.9

Length of Pull Range (in):

3.3

Length of Pull Collapsed (in):

12.2

Length of Pull Extended (in):

15.5

Materials:

High Strength Steel, High-Density Polymer/Rubber

Color:

Black